Binders are one of the most useful organization tools for paperwork gathering and sorting, however, some hesitate to use them because hole-punching can be a difficult step to get the paper to its final home.  The benefits of using a binder can be great if you are looking for an alternative storage method to organizing papers into a file or want to create a customized workbook for keeping up with projects, school paperwork or more.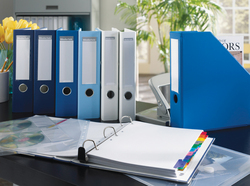 One of my favorite brands of Binders is Bindertek.  If you have never checked out their products you are going to love the durability, versatile colors, quality, and look.  Some of my favorite features are the large reusable label tabs on the side of the binder as well as the unique locking mechanism to hold papers securely while allowing them to slide around the rings easily.  I also love the binder that actually looks like a book spine.  If you want your office to be organized but have a more decorated feel, these are a great option.  You can check out their binders online at  http://www.bindertek.com/binders.html.
I thought I would highlight five creative ways that you can use a binder to rethink the utility of this simple but versatile organizing tool.
1.  Tickler File System:  Use a binder with pocket  folders for a daily sorter of paperwork you must take action on.  Using a binder will also allow you to take your important papers on the road with you where ever you need to work.
2.  Filing Source:  Binders are a great alternative to filing in file folders.  If you don't like opening a drawer and putting papers away or only have room for a shelf in your office, binders are a great alternative for keeping paperwork like insurance policies, investment statements, bank statements etc.  Use different colors for different categories to make filing even easier.
3.  Memory Keeper:  Binders can be a wonderful way to make a quick scrapbook of memories.  Using some clear binder inserts you can quickly display and protect cards, drawings, important letters etc.  Label them by year and create a simplified presentation display.
4.  Craft Organizer:  Binders can also be a great resource for storing sewing, knitting, and quilting patterns, etc.  Use clear sleeves to place booklets, extra copies of favorite patterns to share or pieces of your project.  Creating a quick book to flip through helps you to quickly see your options and keep everything safely stored.
5.  Idea Book:  Use a binder to gather all of those sheets of paper you rip out of magazines, pictures you save for decorating ideas, or items you want to buy in the future.  Use tabbed binder dividers to create categories for your different interests.  Clean it out periodically to prevent it from growing to full by filtering out items you are not likely to follow through on.
The sky is the limit when it comes to how you use a binder.  Consider using one next time you are unsure how to organize your paper.
Kristin Mastromarino is a professional organizer and owner of Livable Solutions Professional Organizing (www.livablesolutions.com) and The Organized Lifestyle Store (www.theorganizedlifestylestore.com).  You can e-mail her your organizing questions at kristin@livablesolutions.com.